Men's Program Services
The Program
The David J. Riordan's Hobie House was founded in 1991 as a licensed and certified 25 bed residential facility. This unique recovery home is designed and devoted specifically for men 18 years and older. Here, residents are given the opportunity to experience recovery in an atmosphere that promotes a sense of well-being, fosters mutual respect and affords an opportunity for self-reflection. Because the program is set in a home-like environment, the residents of the "Hobie House" will enjoy the comforts of home. Our recovery home approach provides a structured clean and sober environment. The program's social model nature emphasizes learning through "doing" and "experiencing" while providing positive role modeling. Through this approach, the program enables the residents to benefit from the most valuable resource for recovering substance abusers: the experience, strength and hope of fellow persons in recovery. One key to the success of the program is the caring and sharing that takes place on an informal level among the residents.
How We Work
Here at the "Hobie House", we recognize that the decision to seek treatment services often is not easy and can occur at any time of the day or night. For this reason, admission into the program is simple, easy and starts with an initial screening process.
For more information: info@csmainc.org
The entire recovery home staff is trained professionals with many years of collective experience in the recovery field. Many of the staff members are in recovery themselves, making them uniquely qualified to assist in the recovery process and are well known and respected in statewide professional organizations. Staff is dedicated to on-going support and guidance to the residential community.
This recovery home is a structured live-in home that includes 33 hours per week of structured services. It offers 30, 60, 90-day program up to 6 months based on the participant's need. The program features evidence-based practices combine with a mutual self- help philosophy. Residents receive group and individual counseling sessions, assessments and individualized treatment planning.
What to Expect
The typical week with us will include substance abuse education, process groups, relapse prevention, one-on-one counseling sessions, treatment planning, discharge planning, recreational/social activities, life skills development, and positive interaction between the participant, their peers and program.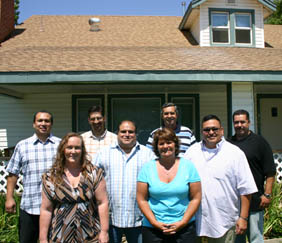 Program Staff
Raymond Patino
Henry Morales
Mark Martinez
Mike Hetland
Gabriel Rojas
Lori Newman
Tabatha Jefferson